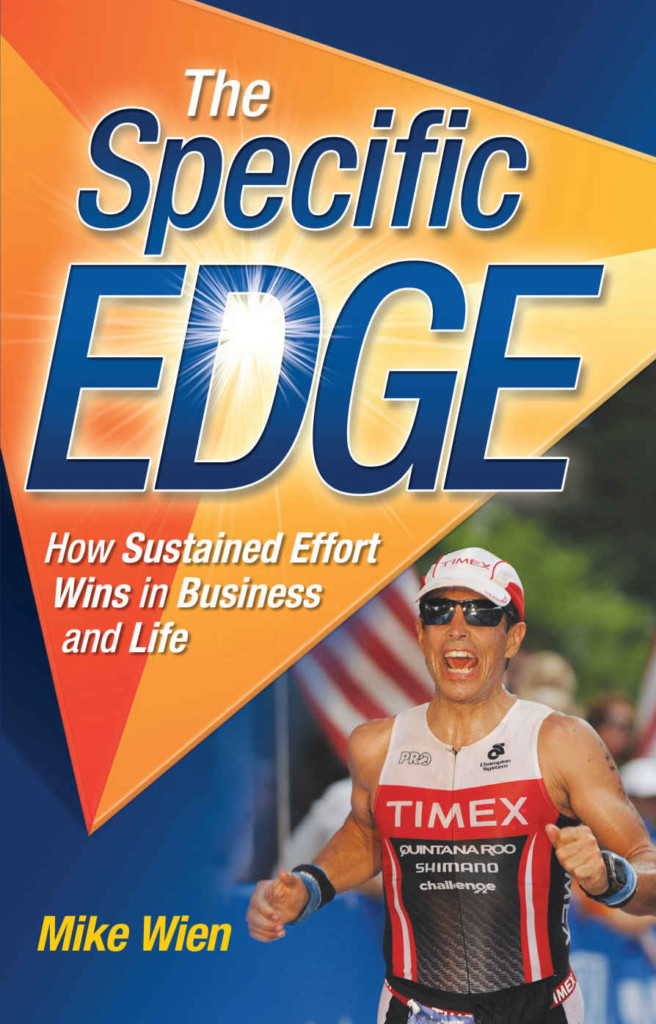 Price: $14.95
Available on Kindle for $4.99
Free shipping and other discounts are available on orders of 25 books or more. Customized versions of The Specific Edge are available with a foreword written by a leader in your organization and your logo on the back. Contact Mike for details.
The Specific Edge:
How Sustained Effort Wins in Business and Life
This easy to read book includes:
A step-by-step blueprint to develop a competitive advantage
Inspirational stories from the business and triathlon worlds about the role concentration, discipline and endurance play in success
Ideas on how to find balance and maintain a positive attitude
Ten steps for starting your journey of converting a dream into reality
Many people have the misconception that success is the result of innate talent, dumb luck, or a magic formula. In reality, winners succeed through a combination of three things: the concentration to retain focus, the discipline to continually improve, and the endurance to overcome obstacles and failures. The Specific Edge is a blueprint for the average person to achieve success and fulfillment far above average. You will be guided to discover your specific edge and develop a strategy to outsmart your competitors. You will acquire tools to sustain effort while avoiding burn-out.
Whether you are an entrepreneur, a corporate executive, or an individual building your career, identifying and capitalizing upon your specific edge creates a competitive advantage. With your specific edge, you create a point of differentiation and tune into opportunities around you.
Learn how you can improve performance and win in business and in life from Mike Wien's personal stories paired with practical tips. Included are hard-earned insights from the first twenty-eight years of Mike's career with leadership roles in marketing at Pepsi, Frito-Lay, Citibank, and Deloitte. These insights are combined with strategies learned from the second-half of his career–when he ditched corporate life and became a world-class triathlete. Mike has competed in the Ironman Triathlon World Championship four times in the past eight years.
Chapters:
The Edge of Goals and Dreams
Cutting-Edge Specialization
Gain the Edge through Discipline
Endure to Succeed
A Balanced Edge
Use Attitude to Create an Edge
Enjoy the Edge
Anticipate Success
The Finish Line
In "The Specific Edge," Mike positions timeless principles in his own unique way. This makes them simple to understand and easy to act on. I encourage you to study his "convergence of your three unique attributes" ideas. This concept alone is priceless to those who want to succeed!
Specific Edge is inspiring, but also it is a step by step guide to taking success to the next level. Mike Wien has been there. Using his own experience both in the corporate world and athletics he shows how he and you can break through the inevitable brick walls and stumbling blocks, I read it in a day and will read it again soon. I recommend this book.